Are you looking for a wood crusher machine? Want to know the current price of GREEN MECH wood crusher? Want to learn more about the working principle and advantages of using a wood crusher? The address that provides the GREEN MECH wood crusher into reputable and quality sawdust on the market today. Your wishes about this machine will be answered in the most detail by GREEN MECH in the article. 
Learn about the GREEN MECH wood crusher
Wood crusher machine is a specialized machine used to grind all kinds of wood, branches, wood cover, wood waste, wood chips from fresh to dry. Their finished products are small sawdust particles that are widely used in many fields and today's life. This type of machine is being applied a lot in production activities and gives users a lot of other practical advantages and benefits. This product has outstanding advantages compared to many other types of wood crushers on the market, so it is increasingly popular and appreciated.
Working principle of the wood crusher machine
By understanding the working principle of the product, you will use it more effectively and with better quality. So what are the working principles of the wood crusher? All lines of GREEN MECH wood crushers have the following working principle:
Step 1: Supply wood to the machine. The input wood materials will be fed to the conveyor belt to put the wood into the machine. 

Step 2: Clip the wood to hold firmly to prevent the wood from being thrown out during operation.

Step 3: Grind the wood into sawdust. The operating principle of this sawdust wood crusher is the same as that of a sawdust machine. The blades will be installed according to a certain principle on the batch. This will help the grinding process take place quickly and most efficiently.

Step 4: Transfer sawdust out thanks to automatic conveyor
These parts, this stage are all operated thanks to the hydraulic system of the machine.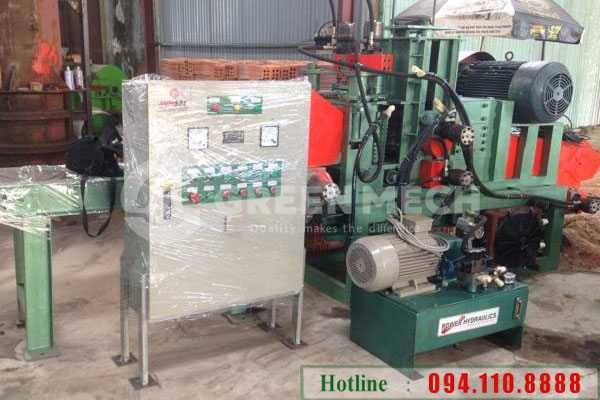 Price list of wood crusher GREEN MECH
The GREEN MECH wood crusher will have many different working capacities. Based on the needs of use, we will choose the machine with the appropriate capacity. Below we would like to provide a price list of some crusher lines at GREEN MECH for your reference.
| | | | |
| --- | --- | --- | --- |
| Machine name | Fresh wood crushing capacity (Ton/h) | Engine power (kW) | Price (VND) |
| GM-150SM | 0.5 – 1.0 – 1.2 Ton/h | 22 | 285,000,000 VND |
| GM-200SM | 1.0 – 1.2 – 1.5 Ton/h | 37 | 355,000,000 VND |
| GM-300SM | 2.0 – 2.5 – 3.0 Ton/h | 55 | 455,000,000 VND |
| GM-400SM | 3.0 – 4.0 – 4.5 Tons/h | 132 | 92,000,000 won |
| GM-500SM | 4.5 – 5.0 – 6 Tons/h | 160 | 1,250,000,000 VND |
| GM-700SM | 5.5 – 6.0 – 9.0 Ton/h | 210 | 1,550,000,000 VND |
| GM-800SM | 7.0 – 8.0 – 12 Tons/h | 250 | 1,750,000,000 VND |
| GM-1000SM | 9.0- 10 – 15 Tons/h | 280 | 1,950,000,000 VND |
| GM-1500SM | 12 – 15 – 25 Tons/h | 315 | 2,650,000,000 VND |
Note: This is just a reference machine price as of December 2021 at some used machine capacities. Machine prices may change when customers need to buy machines according to specific requirements and capacity.
Where can I buy GREEN MECH wood crusher?
When choosing GREEN MECH as the destination to buy elm wood crushers, chipping machines … and a lot of machine lines applied in the agricultural industry is the most correct choice. Because this is the unit that owns the most modern and new technology for grinding wood into sawdust in Vietnam. Therefore, the quality and productivity of finished products are always higher than other models on the market. The durability of the machine is also increased many times compared to the old technology before.
In addition, this is also a model that helps to reduce 60 to 70% of power consumption. Help save energy and costs for investors. You can optimize costs and bring efficiency and top quality when applied in practice. Therefore, this will be the first priority choice that any business unit should not ignore.
This is a unit that directly produces and supplies to the market. As a result, here are always the most competitive prices. Compared to the units that have been providing our wood crushers in particular, wood crushers in general on the market, this is an address with competitive prices to help you save a lot of costs.
To be able to own the GREEN MECH line of wood crushers as soon as possible, customers can come directly or talk to us via:
Contact information
Hotline: +84 94.110.8888.
Address: 
North: No. 12 Khuong Dinh, Thuong Dinh Ward, Thanh Xuan District, Hanoi.

Central: 32 Ly Chinh Thang, Hoa Minh Ward, Lien Chieu District, City. Danang.

South: 652/38 Cong Hoa, Ward 13, Tan Binh District, City. Ho Chi Minh.